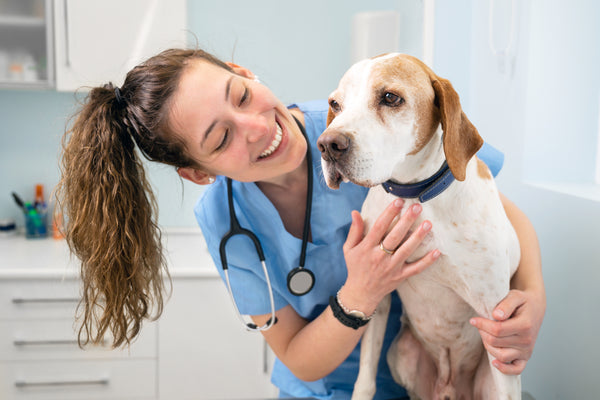 Why Investing in High-Quality Vet Nurse Scrubs is a Must
Vet nursing is a challenging but rewarding career path that requires dedicated, hard-working individuals. As a vet nurse, you need comfortable, functional and formal scrubs that will help maintain a professional appearance in the workplace. 
Today, Moda Per Cura will take a closer look at how to choose the right vet nurse scrubs and why they're an essential part of the job.
What is a vet nurse?
A vet nurse, also known as a veterinary technician, is a trained professional who assists veterinarians with animal care. 
Vet nurses are responsible for countless surgical tasks, including administering medication, taking vital signs, monitoring anaesthesia, assisting with procedures in the operating room, and providing general animal care in a veterinary clinic.
Working as a vet nurse requires you to learn technical and practical skills, including using diagnostic machines, surgical instruments and performing basic tests on animal patients. However, you must also be empathetic and able to provide emotional support to owners during difficult times. 
How to become a vet nurse
To become a vet nurse in the United Kingdom, you must complete a level 3 Diploma in Veterinary Nursing. This diploma is typically a two-year course that includes classroom learning and practical experience in veterinary practice.
To be eligible for the course, you will need a minimum of five GCSEs at grades A-C, including English, Maths, and Science. You may also be required to complete a period of work experience in a veterinary practice before starting the course.
Once you have completed the diploma, you must register with the Royal College of Veterinary Surgeons (RCVS) to become a qualified veterinary nurse. You will then have to provide evidence of your degree and a portfolio of your practical experience.
Veterinary nursing is highly competitive, and many practices require additional qualifications and experience beyond the diploma. However, completing your studies and becoming a registered veterinary nurse is a crucial first step towards a successful career. 
Why do vet nurses wear scrubs?
All professions have a dedicated uniform, and veterinary technicians are no different.
As with doctors, nurses and other medical staff, vet nurses must wear scrubs to promote a hygienic work environment for themselves and their patients. But there are other benefits to wearing vet nurse scrubs that you may not know!
Comfort
Scrubs like our Vet Uniforms are manufactured with lightweight, breathable fabric that feels comfortable during long shifts. Scrubs like the Amalfi Unisex Scrub Top are made from 65% polyester and 35% cotton, with an action back for easy movement. 
We specially produced recycled polyester fabric to create an ultra-soft, stretchy fit made via eco-friendly manufacturing processes. They are also easy to clean and maintain, which is vital in a veterinary setting where there is potential for exposure to dirt, blood, and other bodily fluids.
Professionalism
Scrubs have become a standard uniform in many healthcare settings, including veterinary clinics. Wearing scrubs helps to create a formal and consistent appearance among the veterinary team, which can help to build trust and confidence with clients.
Identification
Scrubs are often colour-coded based on job function or department within a veterinary clinic: this can help clients and colleagues identify who performs what role. At Moda Per Cura, we offer Mens Scrubs, Ladies Scrubs and Unisex Scrubs in versatile colours: Black, Caribbean Blue, Ciel Blue, Hunter Green, Navy, Pewter and Wine.
Safety
Veterinary clinics can be messy and potentially hazardous environments. Scrubs can help to protect vet nurses from exposure to bodily fluids and other potential hazards, such as animal bites or scratches. 
Infection Control
Scrubs can be easily laundered and disinfected, which helps to reduce the risk of infection transmission between animals and staff. 
That's why we offer a men's and ladies' treated collection of scrubs coated with BI-OME AM5 AV Antimicrobial Technology: this is a finishing technology designed to prevent microbial growth and reduce the viral activity of enveloped viruses.
By investing in Moda Per Cura vet nurse scrubs, you can protect the clothes you wear underneath your uniform with a 99% reduction in microorganisms. 
Choose Moda Per Cura for your Vet Nurse Scrubs!
If you are a vet nurse, investing in high-quality, durable scrubs will give you more time to care for your patients. 
Moda Per Cura Vet Uniforms offers a wide range of comfortable and functional veterinary uniforms that protect you from microorganisms and harmful bacteria. Don't settle for low-quality ill-fitting scrubs that won't meet your daily demands. 
Visit our website today to explore our collection of high-quality uniforms, including vet nurse scrubs, lab coats, and more. We craft our products with environmentally friendly recycled polyester to improve your work day and promote sustainable manufacturing processes. 
We are committed to providing our customers with exceptional products and outstanding customer service. Contact us today to learn more about our products and how we can help you find the perfect veterinary uniform.